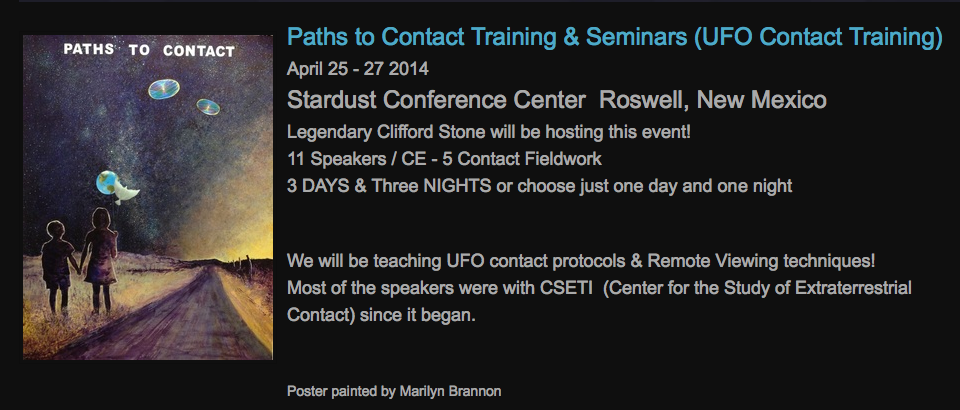 "Stardust Conference/Paths to Contact" 4/25-4/27 in Roswell, NM
Hello ETLetsTalk Community,
This is Kosta.
I'll be sharing my ET Contact journey, along with Dr. Joe Burkes, and Hollis Polk, with the attendees at the April 25 - 27 Stardust Conference in Roswell, NM (yes, THAT Roswell) hosted by Paula Schurle and inspired by the "Paths to Contact" book by Jeff Becker.
If you can make it to the conference, please do. More info is at:
What I love about conferences like this is not only meeting up with 'email' friends from our ETLetsTalk community that I have not yet met and re-meeting others....but being able to re-hear their life stories of ET Contact. As the "Paths to Contact" book showed, each of the contributors has had a unique journey leading to their success in making ET Contact. But these many journeys - these many paths - have led us to the same place of camaraderie, group intention, and new ongoing information offered from our Star Friends in many creative ways.
This gathering is also good for the Soul since the energy of commitment to bringing this ET awareness and our "ways to success" to a greater public is prevalent. In addition to many speakers and group discussion, people are going out under the stars for 3 nights to...well...practice what we preach! 🙂 Make ET Contact.
Also, Stay Tuned for details of ETLetstalk.org/UFOContact.com first community retreat happening outside
of Toronto, Canada in late August!
Paths to Contact Hardcopy
Paths to Contact Kindle