Eddie Bravo Talks CE-5/ET/UFOs with Kosta Makreas and Alyson Powell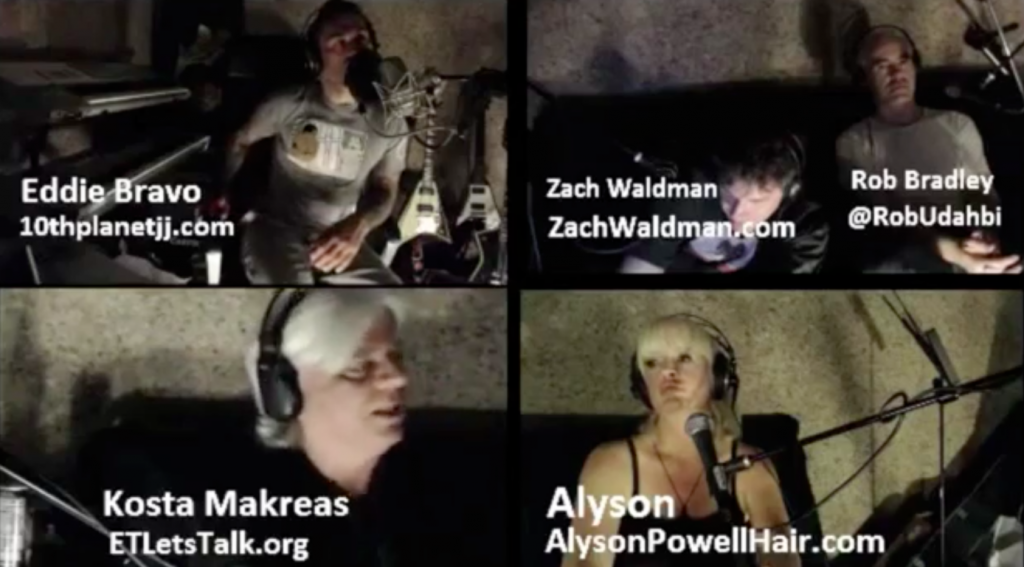 Those in the vanguard of the shift to conscious awareness on our Earth come with many different skill sets and talents and from a host of different backgrounds. Despite the wide range of individual differences, there is the understanding that each soul is simply on their own path to the common goal of understanding the One Mind which unites us all.
Recently Kosta Makreas and Alyson Powell, ETLet'sTalk L.A. Team Leader were interviewed by martial arts champ, Eddie Bravo, of www.10thplanetjj.com who is an avid follower of all things ET and UFO. We are attaching a Mature/Offensive Language warning to this video.
Kosta's and Alyson's part of the interview begins at the 37 min. mark. Please prepare yourself for a rarely-seen wilder side of our fearless leader, Kosta. Many thanks to  Alyson, who along with being a dedicated ETLetsTalk volunteer is a top L.A. hair designer, www.alysonpowellhair.com. She did an outstanding job supporting Kosta in meeting the challenges of explaining the reality of the ET presence engaging Humanity and how we use CE-5 to enable that connection.