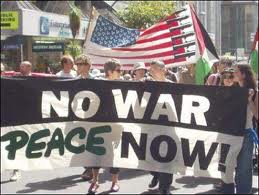 A CALL FOR COSMIC PEACE, A NEW KIND OF PEACE MOVEMENT
A CALL FOR COSMIC PEACE, A NEW KIND OF PEACE MOVEMENT by Joseph Burkes MDPosted two decades ago, this call is still vitally relevant.How can socially responsible citizens respond to the potential threat of an arms race against the extra-terrestrials? As long as there is widespread societal denial of the UFO phenomenon, political action will be difficult. Fortunately, ideas are changing. Ever increasing numbers of people are sighting anomalous craft and experiencing other types of contact. There is a greater acceptance of the Et hypothesis. Government secrecy and press ridicule are no longer potent weapons against the credibility of UFO witnesses. Recent polls confirm this shift in public opinion and perception.
Still, the risks of conflict are ever present, as long as the planet's elites are unwilling to adequately prepare humanity for the inevitable disclosure of the non-human-intelligence responsible for UFO experiences. The situation is even more dangerous because these elites have not reined in the militarists who are planning, and if Philip Corso is correct, even fighting a secret war against what they believe is an Extra-terrestrial presence.
To help prevent war and hopefully usher in a new era of interplanetary cooperation, the creation of a new kind of peace movement is required. The new paradigm acknowledges an Extra-terrestrial presence that appears increasingly likely. A massive people's movement to resists the social forces that are fanning the flames of war might encourage more direct contact with an Et presence. This movement in my opinion will require a strong spiritual base. The realization that we are not alone compels humanity to ask, "What then is our true place in the universe?" This question has far-reaching religious implications that must be addressed by those promoting cosmic peace.
The new movement will traverse the path cleared by pioneering groups like Rama and CSETI, as well as other networks of contactees. Individuals who affirm that they have experienced positive, enduring relationships with non-human intelligence, will play a prominent role in the cosmic peace campaign. These contactees' direct personal bonds with the alleged Extra-terrestrials, may appear quite bizarre at present. Hopefully, they will serve as examples of how humanity may coexist, and perhaps even prosper, within the context of a positive Et-human relationship. A new internationalism could emerge, based on the realization that here on Earth we are truly one people, living in one homeland.
Does this sound too idealistic? Consider the facts of our recent history. Humanity is facing a constellation of man-made problems that threaten the very existence of life on our planet. Global environmental destruction from pollution is becoming an increasingly probable end point as the atmosphere heats up with the release of greenhouse gases. Nuclear proliferation will continue as long the great nuclear powers do little to reduce their stockpiles of nuclear weapons. Without a robust program of nuclear disarmament, it is likely that these instruments of genocide will be used during the coming decades. We should never forget that some 100 million people have died from war, revolution and the resultant famines during this century alone. Regional wars continue across the globe, threatening to spark yet another worldwide, military conflagration.
I urge those who insist that Extra-terrestrials are a potential enemy should consider this premise. Preconditions for any culture to become star-farirng, likely include conditions of enduring peace and ethical development far beyond anything accomplished on Earth. The enormous energy required to move between stars, if used for military purposes, would likely cause a civilization to self-destruct in a short period of time. So, if a race of intelligent beings has survived long enough to be able to arrive here, then they are probably wise enough to live in peace, not only with us, but with other civilizations they might encounter while traversing the sea of stars.
Current UFO literature provides some support for the notion that "aliens" are friendly. A growing number of individuals claim to have experienced Close Encounters of the Third and Fourth Kinds. These witnesses often describe different races of EBE's working together, cooperatively, on the same alien spacecraft. To accept the hypothesis that Extra-terrestrials are not harmful, most of the "alien abduction" literature must be discounted. At this time few UFO enthusiasts are willing to take such a difficult, controversial and divisive step.
My personal view is that by acknowledging the Et presence, we can promote new hope for a better future here on Earth. I see the benefit of accepting the reality of Extra-terrestrial visitations as primarily an ideological one. After all, our planet is beset by what appear to be unsolvable problems. If these so called "aliens" have survived their own dark times, perhaps similar to those we currently face, then maybe we too can survive and prosper. If they can curb self-destructive tendencies and travel to distant solar systems, then perhaps we too can make it to the stars!
It is extremely unlikely however that Extra-terrestrials will save us from ourselves. Similarly, in the opinion of many observers, is it unlikely that they will seriously harm us. As Dr. Steven Greer in his many lectures has pointed out, "The Ets are neither Dar Vadar nor Jesus Christ in a spaceship." Humanity will have to overcome its own problems by exercising wisdom, compassion and a fierce determination to survive. This is our promise.
This optimistic, encouraging message is particularly important for the current generation of youth. So often they experience a sense of hopelessness when threatened with what appears to be insurmountable social, economic and environmental problems. To Earth's young people, the realization that they are not alone in the universe, may inspire them to join a campaign promoting interplanetary peace and cooperation. Youths already exhibit a tremendous interest in UFO phenomena. If a link could be made between the Et presence and the ongoing struggles to save humanity from its self-destructiveness, then the resulting movement could change the course of history. There is much work to be done!
This position paper is the first in a series of documents. It outlines the parameters of a future movement for cosmic peace, solidarity and cooperation. For persons interested in this subject, the web sites of CSETI and Rama offer additional information. As always, I welcome dialogue on this important topic and eagerly anticipate email correspondence.
Sincerely,
Joseph Burkes, MD